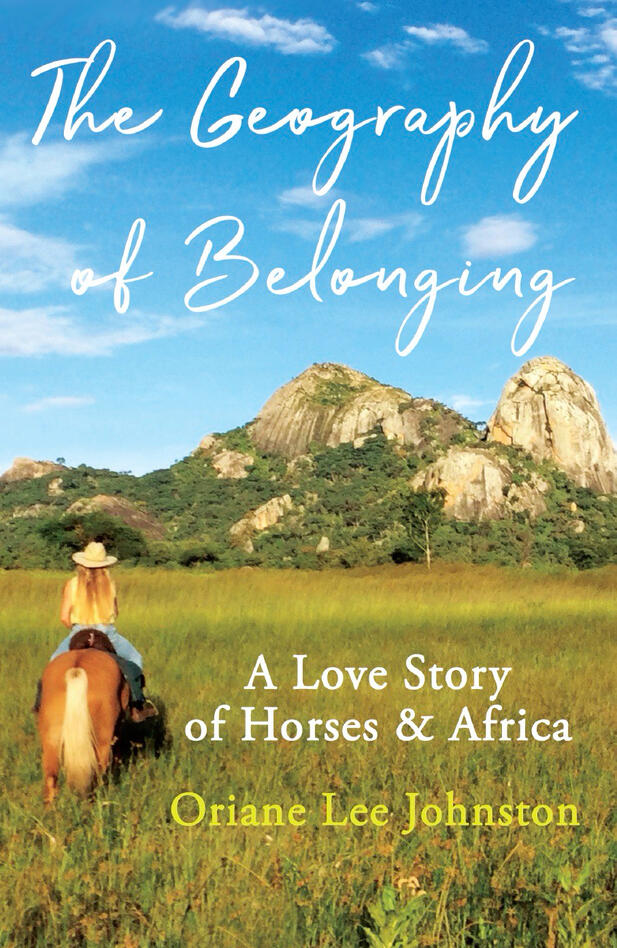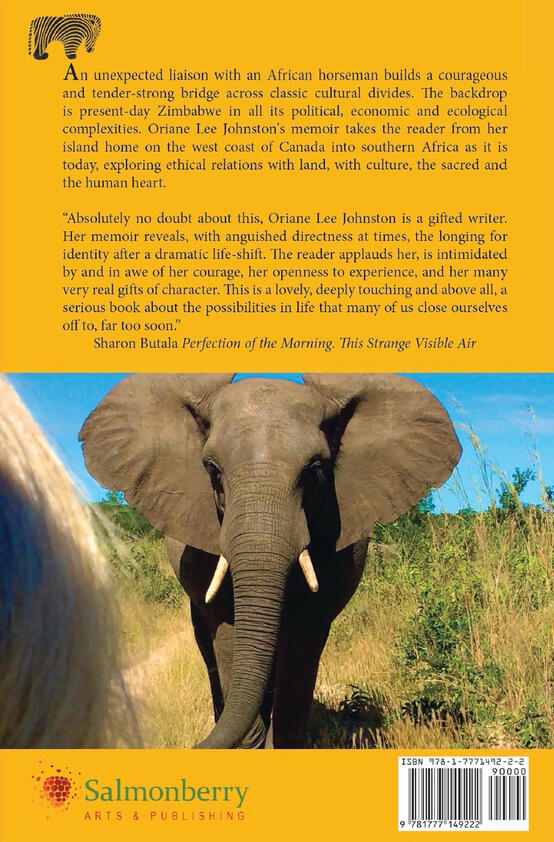 The Geography of Belonging
Salmonberry Arts & Publishing
July, 2022
An unexpected liaison with an African horseman builds a courageous and tender bridge across classic cultural divides. The backdrop is present-day Zimbabwe in all its political, economic and ecological complexities. Oriane Lee Johnston's memoir takes the reader from her island home on the west coast of Canada into southern Africa as it is today, exploring ethical relations with land, with culture, the sacred and the human heart.The story follows an inner call to the Mavuradonha Mountains in the eastern edge of the Zambezi Escarpment. The quest to preserve this wild and unspoiled bioregion parallels the campaign to protect the Great Bear Rainforest, the author's birthplace in coastal B.C.Horses are the wise guides, drawing Oriane Lee to Africa, giving her a purpose and a way of engaging deeply with people and wild places. A trusted ally throughout is a Buddhist meditation practice that rouses courage, compassion and openness to the unknown in her grandmotherly time of life.The love story with Stephen Hambani is a luminous thread that weaves an inadvertent testament to Black Lives Matter. The Geography of Belonging is about longing and loss, commitment and impermanence, about the ethics of generosity and raises questions of identity for a 6th generation Canadian as she maps an intimate journey through the terrain of the heart, the body and the earth.Published by Salmonberry Arts & Publishing
Cover Design by Saki Mafundikwa
Interior by SpicaBookDesignOrder paperback in Canada
Order paperback worldwide: Kobo, Amazon:
Order e-book in Canada
Order e-book worldwide

Advance Praise
---
"Oriane Lee's memoir, The Geography of Belonging is a gorgeous adventure of the heart and spirit, across cultural and species lines. This is a riveting and unusual love story of persons and of place told in sensuous, muscular prose."Erin Robinsong
Rag Cosmology
---
"Having been born in Southern Africa, I love The Geography of Belonging, travelling in my imagination with Oriane Lee Johnston on her amazing journey with Zimbabwe. She opens us to many questions about class, race, nature and the courage to follow love beyond our comfort level in order to discover the heart of another culture. The svikiro, a spiritual medium of the Shona people, said to her: To see our traditional ways kept alive with your interest and your writing. This is what you can give us. Oriane Lee has indeed given that gift to all of us."Ann Mortifee
In Love with the Mystery and Into the Heart of the Sangoma
---
"Oriane Lee's writing, about the seasons of life and death, and the frailty juxtaposed to the strength and endurance in the safari horse, is one of the best epitaphs to the horse I have ever read."Karl Van Lauren, DVM,
Southern Africa veterinarian.
---
"There is precious little left right now, of the magic that arises from relating to extraordinary animals in healthy wild settings. The Geography of Belonging is, in part, a realistic fresh-from-the-field portrait of an increasingly grim situation regarding the greatest of land mammals and the ecosystems they inhabit."Douglas Chadwick
Fate of the Elephant
National Geographic contributor
---
"Beginning with a dark horse dream, a respect for all layers of consciousness continues through every page of The Geography of Belonging. In that luminous space, we see that we already know what the land asks of us– to remember."Odette Auger, Indigenous journalist. Sagamok Anishnawbekwe, living in the Salish Sea.
---
"The Geography of Belonging is gripping, complex and very moving; flowing gracefully from the personal to the political/cultural and back again, in a voice that is sensitive, intelligent, and alive with the details of life. Oriane Lee writes beautifully, her spirit infuses the page, drawing the reader's sympathies and keeping us engaged all the way. This is a worthy book and one that deserves to be widely read. The philosophical asides are economical and poignant and invite the reader to consider the heart of the ethical dilemma of a white woman with a black man in an African country alongside the injustices of post-colonial Zimbabwe itself. If you care about what it means to be human in an increasingly inhumane world, and how to live an awakened life in an imperfect world, you will love this book."Mark Matousek
Sex Death Enlightenment: A True Story and Ethical Wisdom: The Search for a Moral Life
---
"Absolutely no doubt about this, Oriane Lee Johnston is a gifted writer. Her memoir reveals, with anguished directness at times, the longing for identity after a dramatic life-shift. An everywoman story is told here, except that few sixty-year old women would dream of risking so much. Oriane Lee Johnston breaks free of expectations, follows her dream, dives into a new world in Africa, where finds a new culture, new landscapes, significant new interests and an unexpected and tender love affair. The reader applauds her, is intimidated by and in awe of her courage, her openness to experience, and her many very real gifts of character. This is a lovely, deeply touching and above all, a serious book about the possibilities of life that many of us close ourselves off to, far too soon.."Sharon Butala
Perfection of the Morning and This Strange Visible Air
---
"The Geography of Belonging is immensely enjoyable and incredibly well written. Oriane Lee's story is both poignantly dramatic and very funny while bringing the reader into the radiant sun, the smell of the earth, and the smile of our people. Her book carries my sense of home when I am away from Afrika."Saki Mafundikwa
Afrikan Alphabets
---